Speed Addiction Challenge : Faites fumer l'iSonic 111 2009 !
La première édition du Speed Addiction Challenge sur le spot de Saint Colomban (56) est organisée par Swelladdiction Auray en partenariat avec Starboard. Le team SwellAddiction vous invite à venir essayer la nouvelle Starboard I-Sonic 111 2009. Ce challenge GPS sera ouvert à tous et se déroulera à partir du 1 octobre 2008.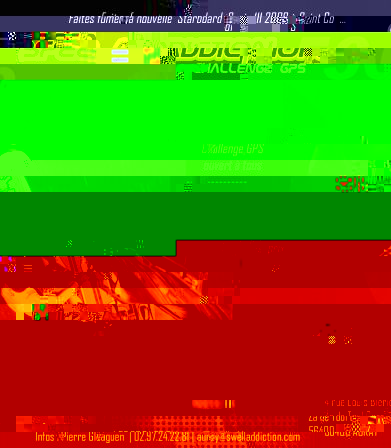 Spot: Saint Colomban
Date: du 1 octobre au 15 décembre 2008
Flotteur: Slalom 2009 Starboard I-Sonic 111 avec aileron de série
Gréement: Non fournie, sans restriction
GPS: GPS personnel émis dans la liste suivante ou possibilité de location 8€/jour
1.Navi GT31/ Navi GT11 / Amaryllo
2.Triptracker Allowed devices: Garmin- Edge, Geko, Foretrex, Forerunner and Etrex (legend and vista)
Infos :
Pour que votre run soit homologué, vous devrez l'enregistrer sur le site internet. www.gps-speedsurfing.com. L'enregistrement peut se faire au magasin à partir de vos traces GPS.
Remise des prix :
La remise des prix aura lieu le jeudi 18 décembre 2008 à 19h au shop. Nombreux lots pour tous autour d'un apéro breton !
Inscription gratuite:
Swelladdiction
4 rue louis Bleriot
ZA de Toul Garros
56400 Auray
http://blog.swelladdiction.com/
Tel: 02.97.24.22.81
Mail : auray(at)swelladdiction.com